Hydraulic LHB 220
The LHB is our lightweight, unbraked hydraulic cattle crush. It is equipped with a 220 volt electric motor, which drives a hydraulic pump and this, in turn, fills an accumulator. This accumulator makes the crush both quick and strong to use. An extra advantage is that there is always a supply of oil in the accumulator which can be used without being connected to the power supply. Another advantage is that the axle can be lowered for a low door without first having to connect the 220 volt cable.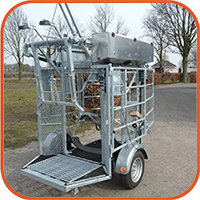 Because our crush is lighter than 750 kg, it does not have to be fitted with brakes and it is very easy to manoeuvre by hand. On either side of the crush there are double barriers which are used to help to guide the cow into the box. It is possible to fit more barriers, allowing for weight. The cow stands on an elevated platform at about a height of 17 centimetres above the ground, making it possible for the operator to work in a standing position.
All of the hydraulic functions of this crush are operated by means of hydraulic levers. These have an advantage over an electrical system: the oil-fuelled system means that the level of control is fine-tuned. A foot can, for example, be raised very slowly. That is something which is not possible with an electrical system where it is everything or nothing. A standard feature of the crush is that both the front door and the back bar can be operated by means of a remote control. This means that a safe distance can be kept from the cow and that it is not necessary to stand close to the crush in order to operate both these functions. Optionally both the hind leg hoist and belly band can be operated by remote control too.. The remote control also makes it easier to guide a new cow into the crush – she simply follows the one that has  already been trimmed and that is leaving the crush .
The LHB crush is equiped with the following:
• 1.5 kW 220 volt motor
• 3.7 cc hydraulic pump 5 litre accumulator
• Hydraulic front leg winches
• Hydraulic self-locking door, adjustable for beef cattle or bulls
• Hydraulically-operated belly band and hydraulic tilt axle
• Hydraulically operated hind leg hoist
• Hydraulically operated back bar
• Control levers for all functions
• Remote control for the front door and the back bar
• 4 LED lights , that switch off when loading a new cow
• Additional w-shaped fixation bar on back bar
• 3 plug sockets on each side of the box
• Automatic "cow counter"
• Grid
• Trailer lights incorporated in crush
• Mudguards
• Rubber mat