Hydraulic PHB

Measurements of the crush:
Length:
Width:
Outer height:
220 cm
170 cm
198 cm
Interior measurements:
Length:
Width:
Weight:
185 cm
163/180 cm
950 kg PHB | 100 kg PHBL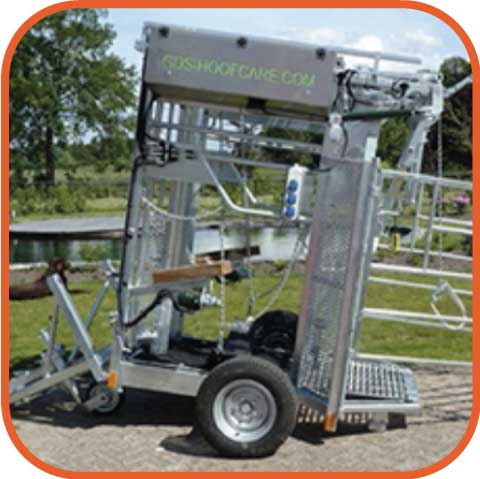 A hydraulic crush which we use daily for hoof care: it came about as a result of several hoof trimmers pooling ideas and practical experience.
We believe that the most important aspects of this cattle crush are:
• It is equipped with a self-locking yoke so that each cow is held securely as she enters the crush;
• it is no longer possible for the cow to jump around;
• and it is never too late to reach the rope or the on-button to secure the cow.
The cow stands on an elevated platform at 17 centimetres above the ground. This means that the hoof trimmer does not need to bend. Both trimming and grinding can be carried out standing in an upright position. The 17 centimetre-high step doesn't form an obstacle for the cow, nor does the transport bag belonging to the crush because this runs across the floor.
Hydraulically-operated cylinders are mostly used because they are quicker and they are less prone to interference than hydraulic motors.
The back bar is not only used for fastening the claws, which is of great importance when using the grinder, but it also facilitates getting the cattle in and out of the crush. A second leg-hold on the back bar ensures that the legs are immobilised.
The cow crush is operated by a remote control, making it easier to have the cows follow each other. Furthermore, it is always possible to work at a safe distance from the animal because the remote control is always within reach. These crushes no longer have problems with moisture because the remote control is removed before hosing down. Besides the use of a remote control, it is also always possible to operate our crushes with hydraulic levers. Should anything go wrong with the remote control, trimming can still go ahead.
The crush works quickly thanks to the use of an accumulator. This means that a number of functions can be carried out without power as long as the accumulator has been filled. For example, the crush can be lowered in this way for driving under a low barn door without first having to connect it to a power supply.
The following features are fitted as standard:
• 220 or 380 volt motor
• 5 litre accumulator (lift capacity of 15 litres)
• Hydraulic self-locking yoke
• Hydraulic belly band (for front and rear use)
• Hydraulic front leg supports
• Hydraulically operated axle
• Hydraulic cylinder for hoisting hind legs
• Hydraulically-operated back bar
• Remote control with 2 standard functions; backbar and door. With 4 optional functions
• 4 levers on the back of the crush for operating hind leg hoist, belly band, back bar, front door
• 2 levers on either side of the crush to operate front leg winch and belly band
• Disc brakes
• Lighting bar for trailer
• Rubber mat
• Mudguards
• Automatic "cow counter"
• 2 grinder holders
• 6 electricity sockets
• Storage space
• 4 24 volt LED lights
• European road safety certificate and number plate if the weight exceeds 750 kg
An optional extra is a lift underneath the crush so that even very tall people have no problems with posture when trimming the front foot. The crush can be raised by a maximum of 25 centimetres extra when this lift is used.