Laminitis
Laminitis is a metabolic disease affecting the sensitive laminae often seen periparturied during acute metritis, mastitis or rumen acidosis. Toxins in the blood disturb horn growth.
Continued abnormal weight bearing can lead to laminitis. Laminitis disturbs the blood circulation to the laminae and the process of cornification becomes disrupted which in turn leads to poor quality horn often affecting the hind lateral claws.
Often only when the feet are trimmed is laminitis noticed by the changes in the horn quality, discolouring of the sole, disruptions in the white line and advanced stages of sole abscesses.
Other signs can be concavity at the toe, prominent ridges at the bulbs and a convex sole. Laminitic cases seem more susceptible to recurring attacks.
Laminitis can be prevented by regular and professional foot trimming to keep the feet balanced. Plenty of fibre in the rations. A balanced diet. No sudden dietary changes. Enough comfortable resting places to avoid stress. Plenty of  space. Good bedding.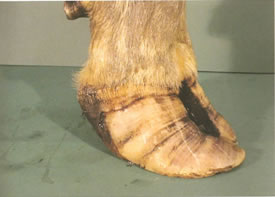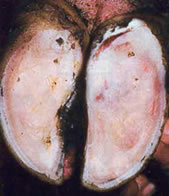 (Cattle Lameness and Hoofcare R.Blowey)